Pages for direct access to image galleries:

Flower
Cactus
Love
Pretty Men
Pretty Women
Smiley
BirthDay
Christmas
New Year
Mother Day
Car
Bike
Truck
Train
Venice
Paris
Las Vegas
Islands
Cat
Dog
Bird
What contains the cat-kitten photo gallery?

Many thousands of tiny purebred cat photos (Abyssinian, Chartreux, Sphynx, Siamees, Birman, Rex, Persian, Ragdoll, Somali, Maine Coon, Europeans shorthair, Norwegian, Siberian...) or cross-breed.

All these pictures are ready to be automatically selected, according their colors, and to be insereted into your photo-mosaic.

Can I add other galleries available on the site Pictosaic?

Yes. All the topics can be mixed as you want. The others animal pics collections are "Dogs" and "Birds".

And insert my private images into the mosaic?

Yes. Example: add the photos of your favorite kitten, with or without the proposed cat photo gallery.

An idea of surprising photo-mosaic?

Transform the photo-portrait of a close cat lover friend as a cat photo-mosaic.
The main breeds of cats and their characteristics:
The "Cat" checkbox below is checked by default when you arrive on this page.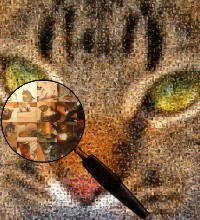 This online service is totaly free.
thanks for making it known or to provide a post onto your blog, forum or in the news, and including its URL link into your comment.
If you are registred into an online sharing service, the links below you can access them quickly.